Five Thousand Dollar Note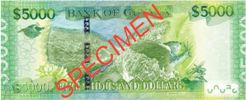 The Bank of Guyana issued a $5000 note on December 9, 2013. The face side of the note carries the map of Guyana with its natural resources, while the reverse side portrays the National Bird and the Rainforest. The note measures 156mm x 65mm with the main colors on the back and front being magenta and green.The note bears 7 distinct security features that are easily identifiable.
Addressing the gathering were Deputy Governor of the Bank of Guyana Dr. Gobind Ganga and Minister of Finance Honourable Dr. Ashni Singh. In his address Dr. Ganga noted that "The current highest denomination is the $1000 note which was introduced in 1996 and currently accounts for about 60 percent of the number of notes in circulation and over 90 percent of their value. It is therefore, evident that given the cost structure from the significant growth of the economy, a large volume of the $1000 notes is necessary to settle some transactions. The introduction of the $5000 note will significantly improve the efficacy of the payments
system and obviously provide for wide scale cost savings."
Dr. Singh empahised that "it is important to note that this is just really a new demonination that is to say that our dollar has exactly the same value as it had yesterday only now you will be holding one note instead of five one thousand dollar notes"
For a detalied look at the $5000 note and its Security Features please click here.